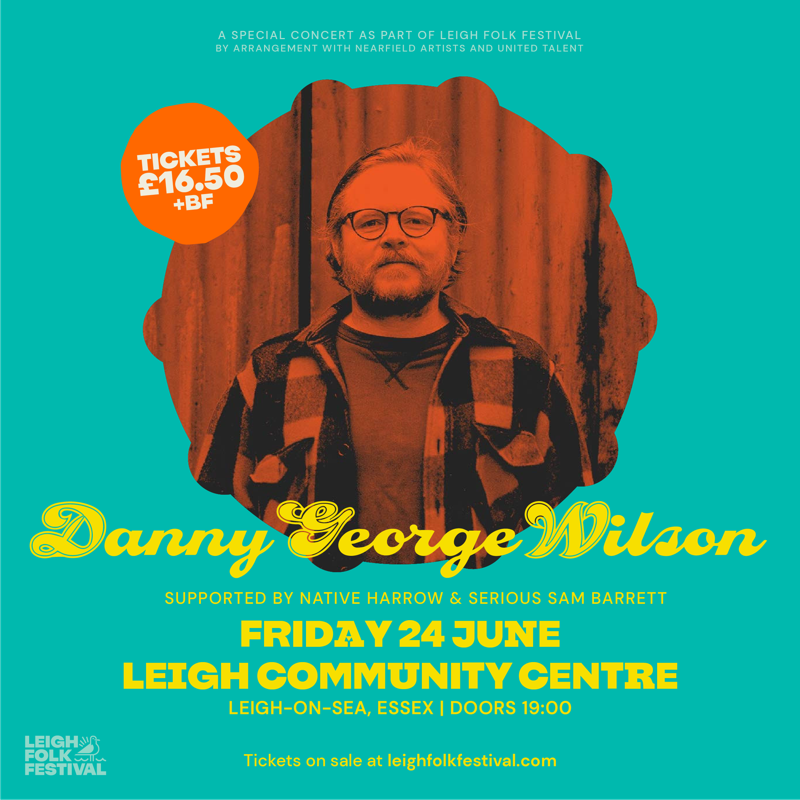 Leigh Folk Arts presents:
Danny George Wilson + Native Harrow + Serious Sam Barrett
Danny George Wilson + Native Harrow + Serious Sam Barrett
£16.50
Entry Requirements: 16+ under 16s must be accompanied by an adult 18+
*A special concert as part of Leigh Folk Festival *
Riding on the wave of success of new solo album 'Another Place' and accompanying UK tour, Danny George Wilson and his 5 piece band brings you a vibrant, diverse collection of startling, impressionistic songs, which "… happily take its place in the roll call of Wilson's best work" (Shirefolk). A collision of straightforward, traditional songwriting with experimentation and noise, brings a fresh and engrossing magic.
His formidable credentials go back to seminal roots-rock band Grand Drive, followed by six albums of consistently high calibre with Danny & The Champions of the World. His award-winning album Bennett Wilson Poole (alongside Robin Bennett and Tony Poole) delighted Americana fans. This year sees him perform at Ireland's esteemed Kilkenny Roots Festival.
Joining him for us will be Pennsylvania folk rock due Native Harrow and singer / songwriter Serious Sam Barrett for an evening of Americana.
Supporting John Smith on his 2022 UK Spring tour, Native Harrow have been described as a "classy folk-rock duo flip from artsy 1960's pop to psychedelic gospel with an enviable elegance" (The Guardian). Their acclaimed fourth album 'Closeness' has been described by Americana UK as "of immense and enduring quality".
Yorkshire-born Sam Barrett has toured the US widely, usually in the company of friends and fellow skaters, The Pine Hill Haints. Playing honest, heartfelt self penned and traditional songs on 12 string guitar and banjo he's received airplay and plaudits from the BBC's Bob Harris, Gideon Co, Marc Riley and Mark Radcliffe. "The sustained brilliance of this playing is really something to behold" (Bob Harris).
Line Up
Sorores, the new 90-minute 2x LP from Native Harrow blows open their British Folk meets Laurel Canyon soundworld to make way for darker avant-garde folk rock, art rock edginess, sitars, west coast jazz, middle eastern rhythms, and desert psychedelia.
Following the release of Sorores, the duo traveled across the US and Canada, performing 80 concerts on the "Sorores Tour." In the fall, after opening east coast shows for The Cactus Blossoms, Native Harrow ended the year with the 70 show "World Gets Quiet Tour."
Native Harrow will begin 2018 with more than 100 concerts throughout North America on the "New Year Eyes Tour" running from January 12 - May 12, stopping only for a week in March to record their new album at Reliable Recorders in Chicago. Their record (following 2015's Ghost and 2017's Sorores) will be helmed by producer/drummer Alex Hall (JD McPherson, Cactus Blossoms, Pokey LaFarge). Following a summer Europe tour, look for the fall release of this as yet untitled album.
For more information on Native Harrow and the New Year Eyes Tour- www.nativeharrow.com